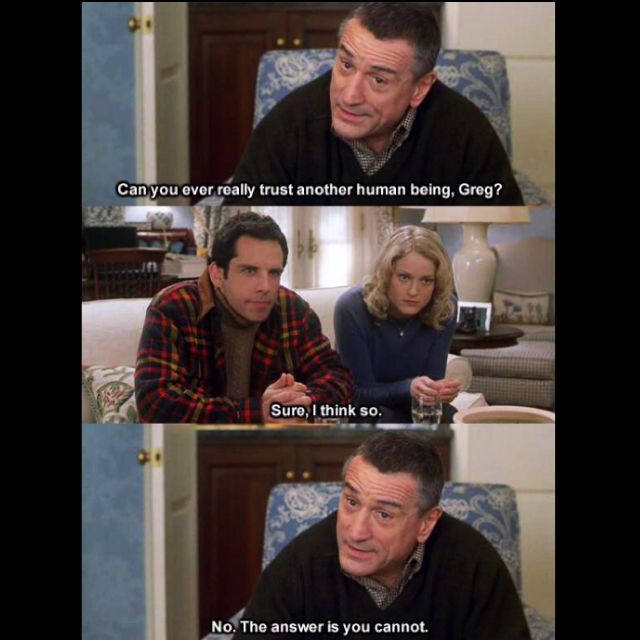 Greg Focker is optimistic. Be like Greg Focker! 
You may (or may not) be happy with your current BCDR vendor but would it really hurt to take a sneak peek under the hood of Unitrends MSP's Unified BCDR solution?    
Let's celebrate World Backup Day with a bit of optimism and help resolve those underlying BCDR challenges faced by your MSP. Why? Because you owe it to your business, and more importantly, to your clients. 
BCDR Challenges Still Loom Large
"I guess the only thing to do now is meet his parents. I'm sure they're decent people. I mean they gotta be if they named their son Gaylord Focker." 
Some problems are obvious and yet we sweep them under the rug because we want to avoid the painstaking process of resolving them. This needs to stop now because the cumulative impact of these problems will have severe impacts on your MSP efficiency.  
Here are four problems that can impede your MSP efficiency: 
Juggling different workloads
Data lives everywhere. The complex hybrid infrastructure has spread out data workloads across on-prem, remote and in the cloud-like Microsoft 365. Sadly, there is a lack of integration between the workloads, which adds pressure on IT technicians to protect client data created in new places, ultimately impacting the productivity and performance of your MSP.   
Manually babysitting backups
IT technicians sift between multiple solutions that are part of the BCDR stack. However, these solutions lack true workload integrations between them. As a result, technicians have to manually babysit backup tasks, which leads to a cumbersome BCDR service delivery. 
Increasing frequency of unplanned downtime
If you're experiencing short periods of unplanned downtime, but at a much higher frequency, chances are you might be a victim of cybercrime. MSPs are being actively targeted as a vector to get access to client data. When you consider that the average cost of a data breach is $3.86 million, you can no longer be blind to the potential impact it could have on your clients' business. 
Everyone knows backups are crazy expensive but that doesn't mean your MSP needs to overstretch its budget. You need to have checks and balances in place, otherwise your margins get hurt, taking away your competitive edge. 
Boost MSP Efficiency W
ith Unitrends MSP Unified BCDR
"If your family's circle joins my family's circle, they'll form a chain. I can't have a chink in my chain." 
Jack Byrnes was right about one thing – you can't have a chink in the chain regardless of whether it's family or your MSP business. That's where the Unified Business Continuity and Disaster Recovery Solution comes in.  
Unitrends MSP Unified BCDR provides a single platform for MSPs to secure all client data, no matter where it lives. Since it's all in one platform, technicians can avoid jumping between multiple interfaces and managing multiple vendors. The backup management time is cut down by 50 percent. That's good savings! 
Make life easy for technicians
Use automation to ensure technicians have more time to work on important tasks that impact the bottom line of your MSP business. For instance, take advantage of self-healing backups to automatically fix Windows issues, including VSS errors, before they can impact your backup. Moreover, a fully automated DR testing process and BCDR auditing boosts technician efficiency exponentially.  
Run backups without splurging
Instead of spending on multiple solutions, concentrate your buying power with one vendor, i.e., Unitrends MSP. All hardware provided by Unitrends MSP is free and is refreshed every three years to keep your BCDR systems updated. MSPs reduce BCDR costs by almost 33 percent with Unitrends MSP. That leaves you with a good margin to reinvest in your MSP business. 
If Jack Byrnes could muster faith, you can too. Try Unitrends MSP to see if it's right for your business. Request a demo today.